Big Bear, CA is stunningly scenic – we can all agree on that. It's no wonder then that hikers, bikers and horseback riders have made it a point to explore the trails that loop around the area. The views are fantastic, the workouts can be strenuous, and it is an experience you are unlikely to forget. We tested two of the hiking trails near Big Bear Lake while we were there: the relatively easy Alpine Pedal Path and the more challenging Pine Knot Trail.
Alpine Pedal Path
The Alpine Pedal Path hiking trail is a largely paved path that runs along the northern side of Big Bear Lake. You can cover over 3.2 miles if you start at the cut-off and then come all the way to Solar Observatory. Adored by bikers, walkers, joggers and birders, the path is fairly well populated even in early mornings. We encountered friendly locals and tourists as we made our way along the lake, although we didn't do the entire thing. We actually started from the parking near Serrano Campground and then followed the path to the boat launch (where we may have gotten distracted by the ducks… as you do).
There are slight inclines and declines along the way, but the path is a fairly easy stretch. We did take the walk on a very warm day in July, and once we left the forested section, there wasn't much in the way of shade. I would recommend taking water even during cooler weather.
Pine Knot Trail
The Pine Knot Trail is categorized as being a "moderate" hike. At this, I not only laugh, but live in fear of the day we try something difficult. If you have been reading the blog for a while, you know that I'm working up to being a hiker. It does not come naturally to me. No, that would be more "reading a book while in a hammock" kind of thing. Still, it was Andy's birthday, and he loves hiking, so I actually suggested this jaunt.
The Pine Knot Trail covers 6.1 miles out and back – or should I say up and down. That's a slight exaggeration as most of the inclines are not dramatic, but you do notice the climb. At its highest point, you will find yourself at 7,784 feet and enjoying the vista at Grand View Point. Unless you are me, and then you fall about .5 miles short of that. While we both started strong, I started to fade in the heat and elevation around 2.3 miles into it. I had to stop at 2.6 miles because I started to feel ill. Andy is convinced it is the elevation because we've certainly done longer hikes than that. I rested a bit and then we made our way back down (yes, that means another 2.6 miles was ahead of me as we started up again). So, the views in the photos you see here of Big Bear Lake from the trail are from the petit view rather than the grand. Next time!
The trail is open from March through November, and you should not be surprised if you see people on mountain bikes and horseback (though how they handle some of those switchbacks, I'll never know). Every bit of it is gorgeous, even when you feel like fainting. Dogs are allowed on a leash. Parking is in the Aspen Glen Picnic Area.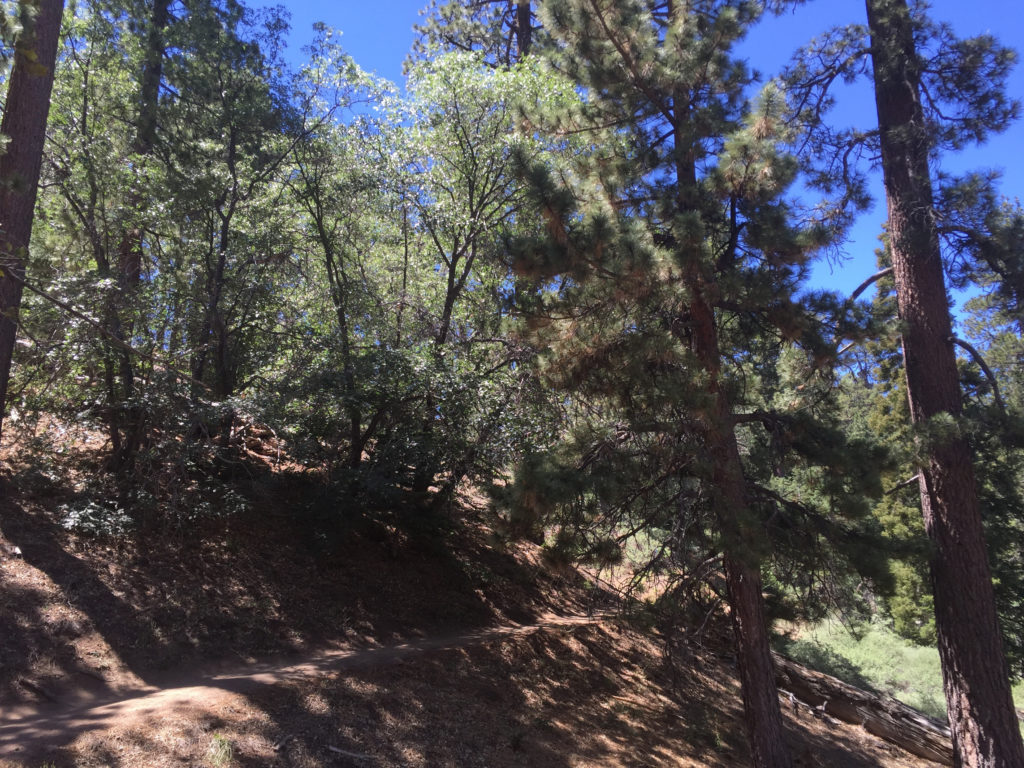 Was the hiking a success overall? Sure. Even with the stumble on Pine Knot, I think I'm getting stronger, and the views were incredible on both paths. I know Andy wants to go back to Big Bear Lake and try out some of the other hiking trails like the moderate Castle Rock Trail (2.7 miles) and the more difficult Cougar Crest Trail. Me? Well, I'm working up to the idea.
A note about the trails and parks–
You must buy an Adventure Pass in order to park inside any of the parks around Big Bear Lake. It's good for 24 hours, and it allows you to park near the trailheads, picnic areas, etc. You can buy them at the Big Bear Discovery Center or from any number of retail locations. We got ours at 7-Eleven.