Baking bread came very late to me. While it seemed like everyone else jumped into complex recipes in March 2020, it took about six months before I tried my first loaf. But it wasn't until Andy and I got a Staub Dutch Oven that my determination to bake rustic loaves took hold.
While I have made tasty bread recipes that require kneading, Bonnie Ohara's no-knead is the recipe that I come back to every month. We love snacking on it. We love using it for sandwiches – in fact, I just had some for a thoroughly satisfying turkey, avocado sandwich today. And learning to make a great loaf at home has saved us a lot of money!
I'm convinced that this recipe is such a success because of three things: 1) King Arthur all-purpose flour, 2) the Staub Dutch Oven, and 3)Bonnie Ohara's easy instructions. Now, do I stick to the recipe? No. I make some adjustments that may or may not work for you, but it is a great start.
12-Hour (or 14-Hour) Fermentation No-Knead Bread Recipe
(Note: the original recipe calls for 12 hours, but I actually keep it rising for 14 or 15 hours).
Ingredients
2 grams dry active yeast (the original recipe calls for 1 gram instant)
¼ teaspoon sugar (to help activate the dry yeast)
375 grams of lukewarm water (I like 90 degrees)
500 grams King Arthur all-purpose flour (you can also use bread flour)
10 grams of salt
Tools
Dutch oven
Kitchen scale
Two, large round bowls
Kitchen towel
Thermometer
¼ teaspoon
Recipe Steps
Step 1. Weigh all of your ingredients before starting. This isn't a must, but it has always made it easier for me. Plus, if you find that you don't have enough of any ingredient, you'll know that before you waste it by prematurely combining.
Step 2. Add the active dry yeast into the water.
Step 3. Pop the ¼ teaspoon of sugar into the bowl with the warm water and yeast. Swish the mixture gently and let it go to work.
Step 4. If you see the yeast coming to life by lightly foaming at the surface, you can feel good about it being active and ready for work. Because this is such a small amount of yeast, do not be surprised if you don't see a significant volume of froth.
Step 5. Gently add a layer of your pre-weighed King Arthur all-purpose flour. Feel free to substitute your favorite flour (even bread flour can be used in this no-knead recipe), but I've gotten the best taste out of King Arthur.
Step 6. Lightly sprinkle the top flour layer with salt. Try to make sure that the salt doesn't touch the water right away – the theory is that the salt will inhibit the yeast.
Step 7. Take your rings off, wash your hands, and mix the concoction into a raggedy ball of dough. Don't worry if it seems a little wet or a little dry. You can use a wooden spoon, but I prefer to really get in there with my hands.
Step 8. Step away for about 20 minutes to let the dough fully absorb the water.
Step 9. Sprinkle flour onto a work surface and then turn the dough onto the surface for folding. The original recipe suggests that you stretch and fold the dough by visualizing pulling the 12 o'clock corner of the dough up and then down to 6 o'clock. Then 3 to 9. Then repeat two or three times. (Note: I prefer to do this several times, and I don't get too concerned if the dough gets sticky while I'm helping to develop the gluten.)
Step 10. Pop the rough dough ball back into the bowl and cover it. The original recipe calls for keeping it under a kitchen towel cover for up to 12 hours. (Note: I prefer to put the dough into a plastic bag that I then seal for 14 or 15 hours. The long overnight rise and the King Arthur flour combine to give it extra flavor. I've done the 8-hour recipe as well and just keeping it in for a few extra hours gives it exponentially more flavor).
Step 11. After 14 or 15 hours, the dough should have risen significantly in the bowl and have a fair number of visible air bubbles.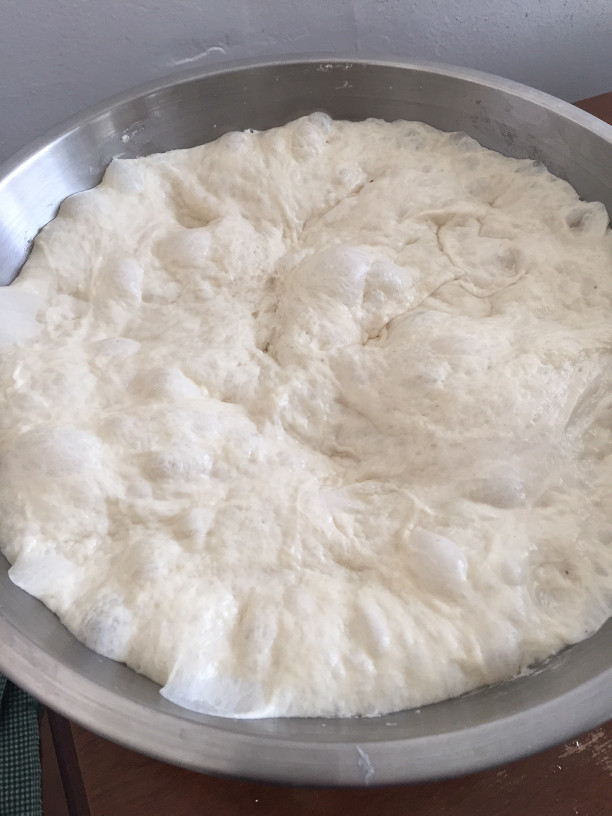 Step 12. Flour your surface. Gingerly turn the dough onto the surface with the bubbled underside now facing up.
Step 13. Shape the dough by making envelope folds (essentially, the 12 o'clock side to the middle and the 6 o'clock side to meet it, where it will seal the fold). I'll do this fold a few times to be sure that the shape looks right and that the dough is a little less relaxed.
Step 14. Lay a kitchen towel into the bowl and flour it.
Step 15. Place the shaped dough, seam down, onto the kitchen towel. Put the bowl aside for another 90 minutes. You don't need to cover it.
Step 16. Depending on your oven, you may need considerable pre-heating time. I start to pre-heat the oven to 475 degrees when I have 30 minutes left on the final rise. Place the Dutch Oven with its lid on onto the middle rack so that it pre-heats with the oven.
Step 17. Cut a sheet of parchment paper so that you can create a cradle for your dough. Sprinkle it lightly with yellow corn meal. Then place your dough into the center of the parchment sheet with the seam side facing up. (Note: the original recipe does not call for this step, but I find that it helps with dough transfer and guards against burning).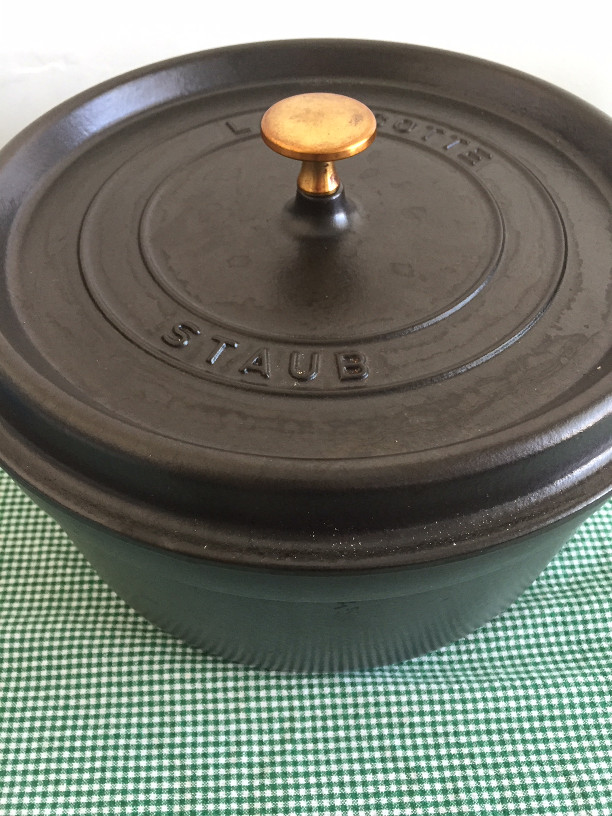 Step 18. Pull out the very hot Dutch Oven and place your dough cradle into it. Place the lid back on top of the Dutch Oven, and put it into the oven for 25 minutes.
Step 19. After 25 minutes, remove the lid to the Dutch Oven and leave the dough uncovered for another 15 minutes. (Note: If the dough already looks dark, reduce the heat to 450 degrees or only keep it inside the oven for another 10 minutes).
Step 20. Remove the Dutch Oven and pull out your bread! Transfer it to a cooling rack and lightly tap it on the bottom. It should sound hollow.
Step 21. Cool for approximately 30 minutes. And, yes, it will be hard not to eat it right away, but that might harm the crumb structure, so resist the urge.
And voila!
With just a few adjustments to fit your favorite flour or particular oven, I think you'll love the ease of this recipe and the scrumptious bread you will get from it. And if you are curious about some of other stress baking projects, click here.