Are you staring at your office or craft room, thinking about how much you need to organize art supplies before the winter holidays arrive? I hear you. While I don't have big canvasses, I have tons of bright markers, colored pencils, fancy paper, and little paintbrushes. As I started my annual fall clean-out and declutter mission, I realized that it was finally time to organize the art supplies in a way that makes them easy to grab when I need them.
Get Your Sorting Jars, Tins, and Bins Together
It turns out that the task I had been avoiding for a couple of years took about 15 minutes. This is partly because all the supplies were already in one room, and I had several empty vases and clear jars at the ready. If you don't have receptacles at hand, then you'll want to give yourself more time to organize art supplies.
Group Categories Together
Sharpies/Colored Markers
I have a truly inspiring number of sharpies. Thick sharpies. Thin sharpies. BUT I don't really "color" with them. If you do, group them together with your other colored markers. If not, keep them in different clear jars so you can quickly grab whatever you need for your project.
Paint Brushes
I debated whether or not I should keep all my paint supplies together in the utility room. In the end, I decided to leave the big brushes for repainting walls and furniture in the utility space. I separated out the craft and detail brushes and brought those into the office. This way, those craft brushes are in the room where they would be used.
Colored Pencils
I don't have many colored pencils, but I decided to keep them separate from the markers. Looking through what I had for this decluttering mission, I was reminded how much I enjoy drawing. When I set out to organize art supplies, I'm not sure I realized that it would inspire a sudden burst of creativity. But it definitely has!
Paper
I separated our upscale letter writing paper and regular printer paper from the bright construction paper and other craft paper.
Miscellaneous Art Supplies
I gathered miscellaneous crafting tools, glue, tape, etc., and assigned them their own bin. Because I don't craft or draw a lot, I don't have significant amounts of backstock. But I am happy that it all comes together in one organized container — no more searching for Elmer's glue!
Set Up the Art Supplies Station
I was so busy focusing on how to organize the art supplies that I didn't think about where I would put all of them. I knew the bins and jars were going into the office, but should they take up space on the big conference table, be on a glass-enclosed shelf in the bookcase, or should they rest on the top of a low bookcase?
So far, I'm happy with the supplies being on the top shelf of the low bookcase. Everything is easy to see. Andy and I can both grab supplies if we need them. And I won't (and they won't) suffer from out-of-sight, out-of-mind syndrome again. They are also out of the way enough that they won't get knocked down or take up office real estate that might be needed for other purposes.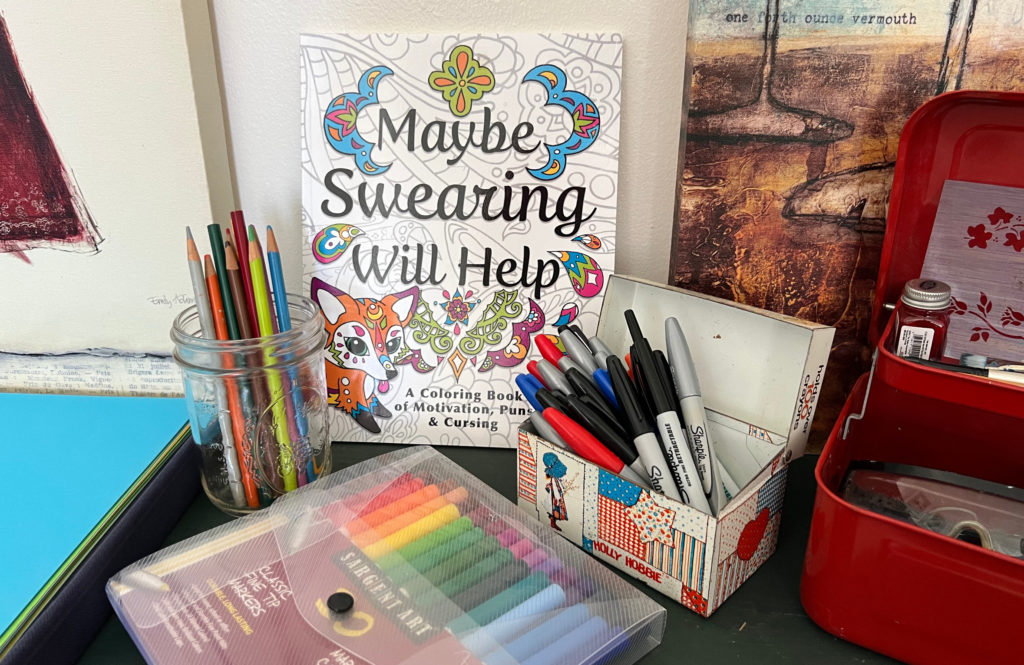 How about you? Have you set yourself a task to organize art supplies before the crafting holidays arrive this year?
For more organizing and decluttering tips, visit our previous articles here.