With November sliding into my DMs like a surprise visit from a multi-level marketer, I realized that it was time for an overhaul in several areas of my life. Health matters and work have gotten most of my attention, and our apartment shows it. My husband has already gotten started with his clean-out, but I needed a little extra motivation. So, as of today, I'm playing along with the 30-Day Minimalism Game.
What is the 30-Day Minimalism Game?
It's a pretty simple game, designed by The Minimalists to help you reduce your clutter and embrace the things that you love, use and need. Nearly all of us have stuff we do not need, and that clutter requires energy (if it is just to keep it clean) that we could be using elsewhere.
The rules of the 30-Day Minimalism Game are pretty easy to follow. The Minimalists explain it: "Each person gets rid of one thing on the first day of the month. Two things on the second. Three things on the third. So forth and so on."
Boom! It couldn't be easier, right? Well, there are some challenges in there. For instance, getting rid of one thing on Day 1 is pretty simple. Day 2 seems pretty easy (I see two things in front of me in my office that could go right now). But on Day 30, that means there are 30 things that I have to get rid of that day, before midnight. Yes, before midnight. In fact, every day, your items need to be donated, trashed or sold before midnight.
That midnight deadline means that I can't store things up somewhere for the "someday I will donate this" option that often means a thing stays in our utility room or my office for a year. This is both good (yea, stuff is gone!) and bad (unless you have a garage sale, it's pretty hard to sell things off in one day). It may take some planning.
If you just can't imagine getting rid of 30 physical things (or 20, or 15), you can stop. Yes, you will technically lose the challenge, but you will still have gotten rid of some unwanted stuff in your home, and that's a win.
Need more details? Watch this video from The Minimalists and then check out #MinsGame on your favorite social media channels to post pictures of your clean-outs and to connect/compete with others playing the game.
My Day 1 Item:
My Day 1 item was an old white duvet insert. It was in good condition, but it didn't fit our current bed, and we had long ago gotten rid of the duvet cover (and ended the wrestling matches involved in putting that one the bed). Nobody wants to fight for covers, and this one was just barely covering the top of the bed.
Given that there were some small bleach stains on it, I didn't feel comfortable donating it to Goodwill or similar. Instead, we found a pet food and supply store (Pet Food Express in Beverly Hills) that accepts items like blankets and towels for their rescue and shelter support work. With all the fires going on in California right now, and the number of normal animal rescues each year, it sounded like a great solution.
Day 2
On Day 2, I got rid of my one-time favorite flip flops. These saw a lot of pavement and much sand over the years. Alas, the polka dots have worn off and an uncomfortable groove has taken over the base. I'm not sure why I kept them for all these years, other than nostalgia.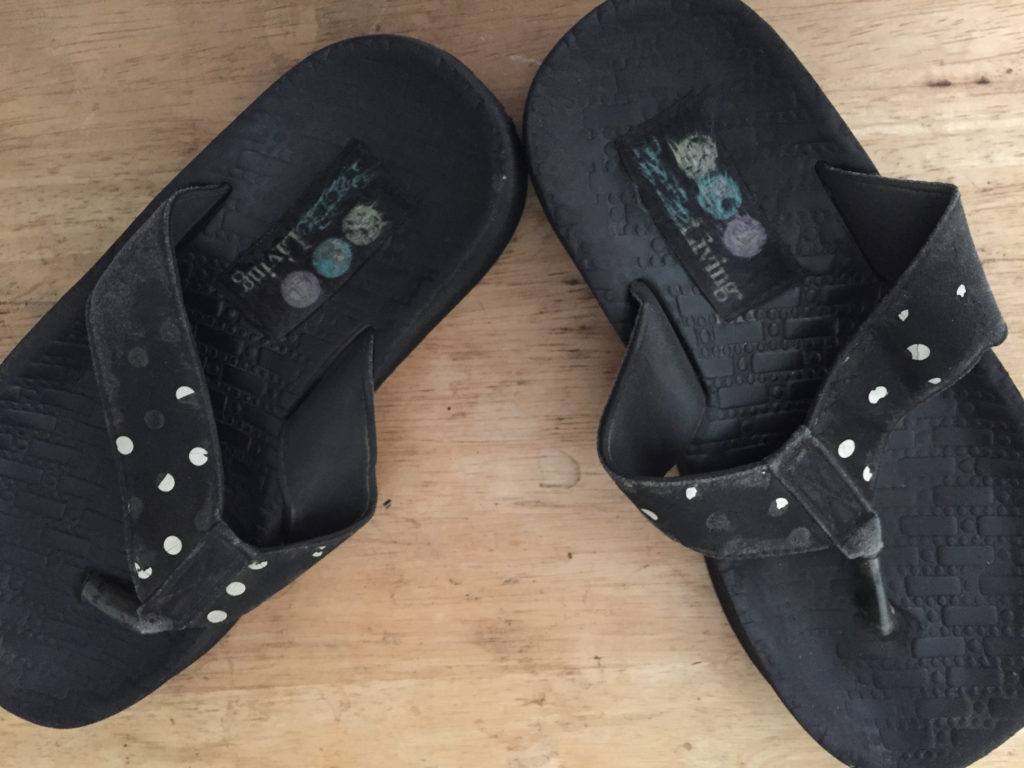 Naturally, this started an internal debate about whether or not the shoes counted as one item or two. While, technically, I think they count as two items, I also tossed a pen that didn't work anymore just in case.
Day 3
I wore a pair of Black Steve Madden shoes for YEARS that gave me blisters every time I wore them. I always thought I could stretch them out, and my blue pair were a delight to wear. So, I kept trying. For YEARS!!! Happily, they were part of Day 3's decluttering along with a neck pillow that I never got a cover for and never used. Gone!
Day 4
Day 4 saw me staring at empty wine bottles. One was from a recent trip, but the others were bottles we enjoyed and wanted to remember. I also live with the belief that one day I will use these wine bottles as very cute vases. That never happens. So, on Day 4, out they went.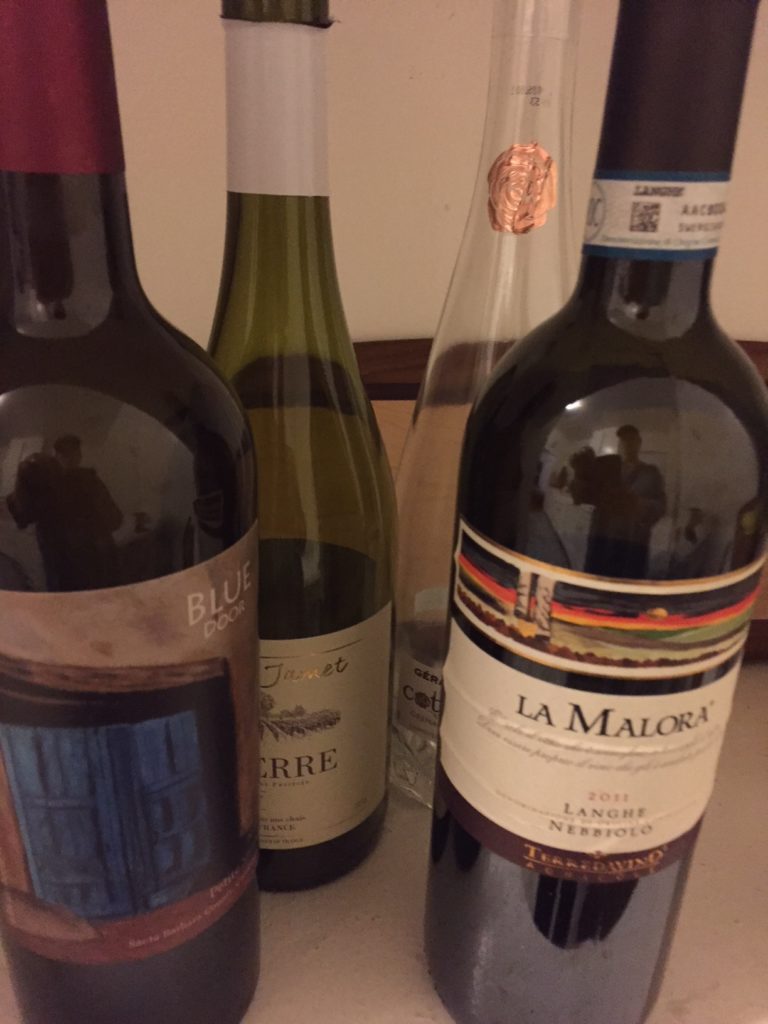 Day 5
On Day 5, I thought I'd take a look at some of the memorabilia I had stuffed into an organizer. While it was in the right place, it seems that I merely organized stuff that made zero sense to keep. So, on Day 5, out went some travel memorabilia and three maps from a trip I took to LA in 1997. Given how much my street alone has changed in the last two years, I feel good about finally letting those maps go.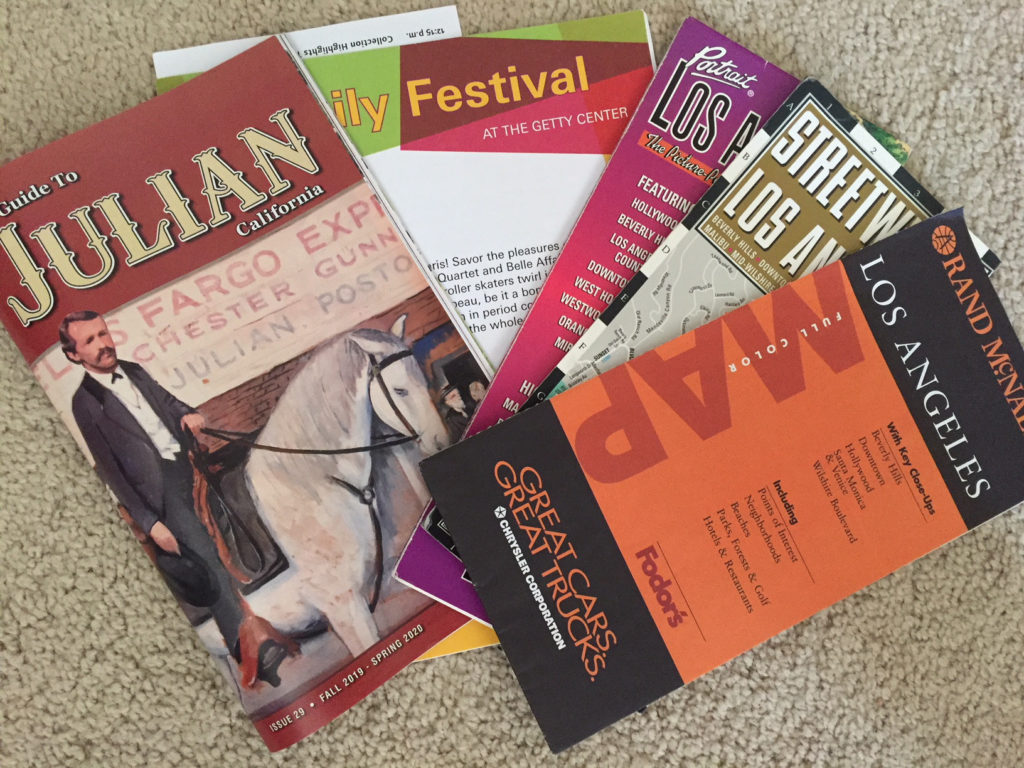 Day 6
Day 6 saw me continue my purge of maps; this time I jettisoned a road atlas from 1996. I also donated a number of books that I enjoyed, but knew that I would never read again. There is a lovely Little Lending Library not far from here, so I placed them in there in hopes of someone else delighting in their discovery.
Day 7
Day 7 was hard. I was already struggling with the idea of getting rid of another seven things. The decisions were getting tougher. I turned to my drawers. Here, I found several t-shirts, regular shirts and one sweater that were not part of my rotation. The sweater was particularly tough because I love the color. But it is wool and short-sleeved and the window to wear that number here in Los Angeles is very small. I've probably only worn it once since I bought it. Hopefully, somebody else will find more use for it.
That was my first week. If you don't want to wait for the weekly round-ups here, feel free to follow me over on Twitter. I post my decluttering there using the #MinsGame tag each day.
How about you? Are you playing the 30-Day Minimalism Game?