A Napa Valley wine tasting tour had been my goal for several years. Andy and I almost made it up there five years ago for his mother's birthday, but fires were raging. Needless to say, his mother's celebration was moved elsewhere, and we postponed the trip until the area could recover. Finally, in May, we decided that the Napa Valley area was beckoning for our wedding anniversary.
Honestly, we could not have been happier with the trip. Andy had recently done some work on an audio auto tour, so he already had some background. And, of course, our wine club friends had so many great tips. Still, some things surprised us.
If you are planning a trip to go Napa Valley wine tasting for the first time, here are our tips for a successful trip.
It's Expensive
No, seriously, it's expensive. We have gone wine tasting in various places and were shocked at how expensive it was. The tastings were expensive. Buying wine was expensive. The hotels were expensive. Food was expensive. BUT it was worth it. We had exceptional wine, wonderful conversations with our wine educators, and we stayed in a fabulous location. It's the place to splurge, and I'm glad that we had saved enough to make this work for our anniversary celebration trip.
Stay in Hotels
If you are traveling with a large group, I understand why you would want to stay in a VRBO or Airbnb. But a hotel like Rancho Caymus Inn will offer you benefits that a private home might not be able to match. For example, Rancho Caymus Inn has partnerships with many world-class wineries. This means they could offer significant discounts on tastings, bottles, bistro service, etc. They also offered free breakfasts, a gorgeous pool, and a roaring fireplace, along with an immaculate space. Their location in Rutherford made driving (and sometimes walking) to wineries a breeze. And we never had to do things like wash our sheets and towels, clean the kitchen, or do any chores on top of a cleaning fee. I mean, seriously, if you are going for a luxury vacation, do you really want to do laundry? I do not.
Make Reservations
All of the wineries we wanted to visit in May required reservations in advance. For some, this was always the case, but because of COVID, all of the wineries in the area adopted the practice. This allows them to adequately staff the wine tastings and keep the numbers down to help them with social distancing. Even now that COVID numbers are far lower, the wineries have kept the reservation requirement. I liked it because it meant we were never rushed and never had to deal with crowds jockeying to get attention or pours. For the higher-end wineries, make those reservations as soon as you have the dates for your trip. Those spots will go quickly in season.
Set Part of Your Schedule Before You Leave
Before we left, we had at least one confirmed reservation for each day. This allowed us to plan meals and travel around that reservation. Then, as we got recommendations from our Somms, we were able to make additional reservations for later in the week. It was a nice balance of scheduled and spontaneous. I highly recommend not waiting until you get up there to start setting your schedule. If you wait, you may find yourself missing wineries you really wanted to visit.
Don't Schedule More Than Two Tastings in a Day
Unless you do a lot of wine tastings in your daily life, you will blow out your palate if you have several tastings in a single day. Also, I'm a lightweight, and it's hard for me to taste a lot of big wines (like the Cabernet Sauvignons that Napa is known for) in a single day. I lose the definition, and I get buzzy. And you will be surprised how fast that happens, even if you have a higher tolerance. You don't want to be driving that way, and you want to be able to enjoy the complexity of the wines you are tasting.
Sample the Different Wine Areas Within Napa Valley
Unless you specifically want to only visit wineries in a particular AVA, I'd recommend doing a sampling. It was interesting to taste the Rutherford AVA (and see if we could detect the differences in the famous Rutherford soil) versus the St. Helena AVA versus the Calistoga AVA, etc. And you'll definitely see a difference in the types of wine available, depending on whether the grapes are grown on the Napa or Sonoma sides.
Go Out of Season If You Can
We scheduled our Napa Valley wine tasting tour just before the busy season started. While it was cooler weather, getting reservations for wine tastings and meals was also easier. It was also cheaper than it is during the height of the season.
Be Prepared for the Weather
We got actual weather. It rained (at least a little) every day we were there. Mornings and nights were cold – low 50s/high 40s on some nights. And then afternoons would heat up. I suggest layers and being prepared for inclement weather. We love outdoor wine tastings, and we were lucky that rain only impacted one of them while we were there. Having said that, if you go later "in season," you should be prepared for Napa Valley to be blazing hot during the day with a big cool down at night. Temps in the 90s are common (as is 100), making drinking those big red wines challenging. Another reason to book "off-season."
COVID Rules
When we were there, California COVID rules were still in place. We were prepared with our vaccination cards, masks, etc. They were also accepting negative tests in place of vaccinations. Today, things are looser, but you will see on the websites that many places still have the rules in place for indoor tastings. Personally, being immunosuppressed, we chose to do outdoor tastings, and I wore masks whenever I had to go inside. We were impressed with how spread out we were from other people. Honestly, the rules made it easier for us to enjoy ourselves. YMMV.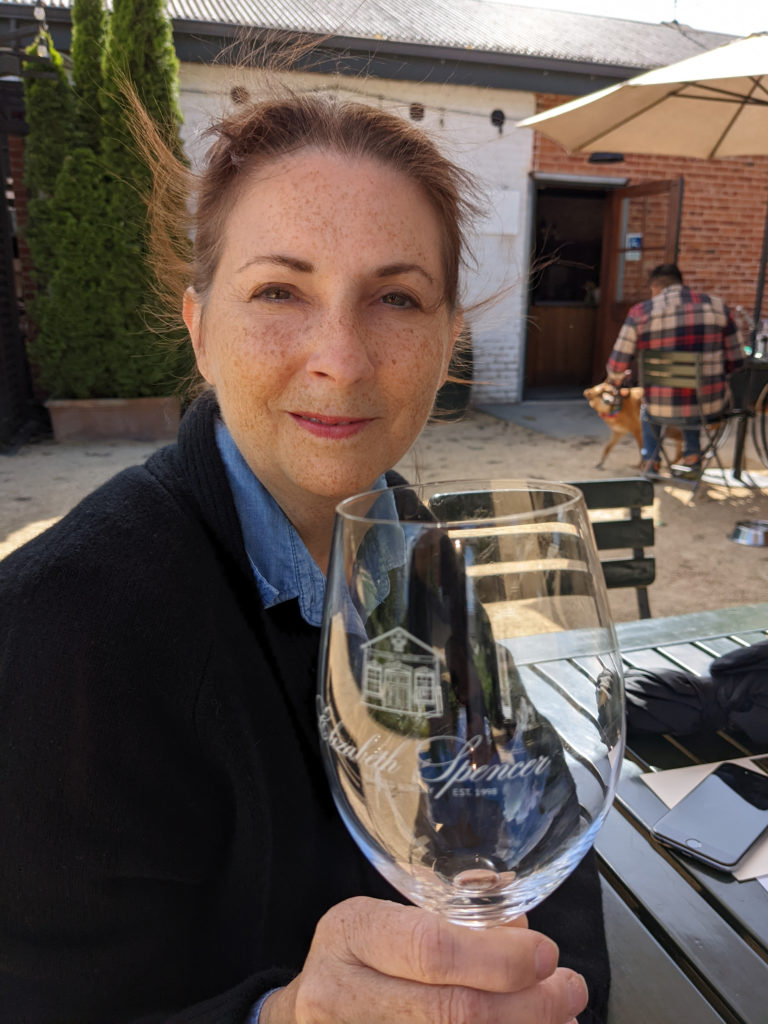 For intel on the wineries we visited on our Napa Valley wine tasting adventures, click here.